2017 San Jiu Tie Moxa Patch SALE
According to Canadian Farmers' Almanac, this winter will be longer than usual. Winter starts from this November to next March. Snow fall will be greater than last year too. Please try to stay warm.

Also, the San Jiu Tie application dates are coming soon (12/22, 12/31, 1/9). We recommend you to prepare for it as early as possible. Inform your SFT patients to continue their treatment with the SJT moxa patch. Posters and fliers will be made available in the near future.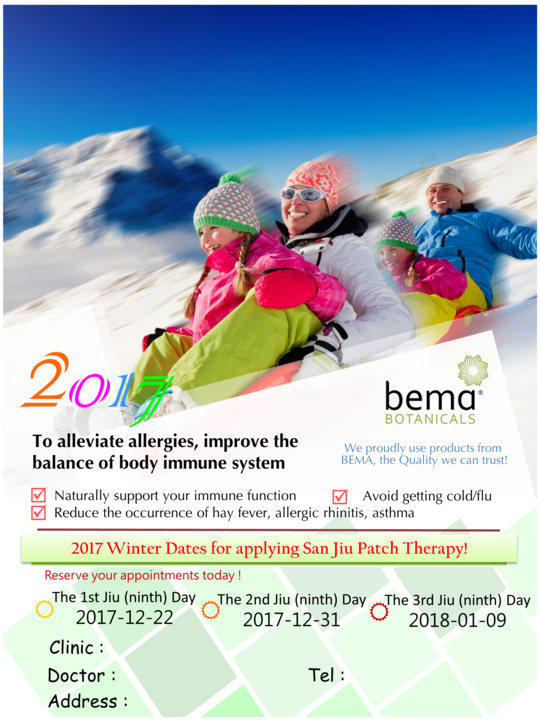 * Promotion for SJT as following:
* A Free Chinese OR English poster (while quantity last) if ordering a box of SJT kit
* Free Chinese AND English posters (while quantity last) if ordering over 3 boxes of SJT kits AND free local Greater Vancouver shipping (or shipping discount to other outside areas)
* Regardless of quantity purchase, if ordering before end of Nov, free admin service to include your clinic info onto the posters.
Should you have any questions, please feel free to contact us.  Thanks.
今年加拿大的冬季,跟據加拿大農夫年鑑所述,將比往年更長,從2017年11月開始到2018年3月,而且降雪機率也比往年增多,提醒大家多注意保暖。

此外,2017三九天的日子也即將來到嘍!
今年冬季三九天的日子分別是,初九12/22、二九12/31、三九1/09
也請您即早準備,別忘了在診所張貼公告,告知新客戶預約訊息
,以及跟暑假做過三伏天的患者提醒預約時間喔!