Reminder: San Jiu Tie (12-22 The 1st Jiu Day)
Dear doctors and friends of Bema,

As everyone is busy wrapping-up for the year-end and preparing for the holidays, a gentle reminder that the first day for Winter San Jiu Tie is coming up in two weeks on Dec. 22.

San Jiu Tie helps to regulate the immune functions to address and prevent common "cold" conditions, and reinforces and maintains the effects of Summer San Fu Tie.

You can receive a FREE San Jiu Tie promotional poster when you order one set; if you order 3 or more sets, standard local shipping is FREE. (Delivery to other areas will receive the equivalent amount discount.)

Happy holidays!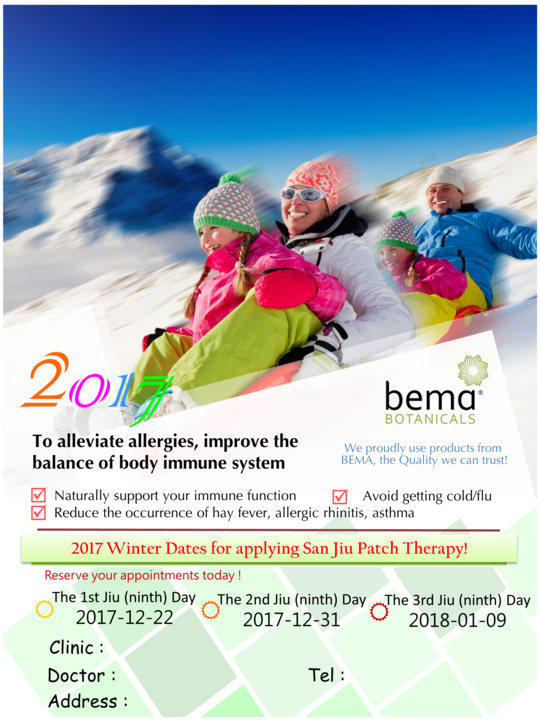 親愛的Bema醫師好朋友們:
再過兩週就是三九天開始的時間嘍!冬季三九貼能對應寒冬調節免疫抵抗疾病,來年春天也可以減低過敏的發生與不適;三九貼並且能有效維持與加強夏季三伏貼療效。
貼心提醒您,檢查三九天材料是否準備足夠;年底節日前事務繁忙,也不妨電話或簡訊再次提醒患者預約時間.
現在訂購一組附送門診宣傳海報,訂三組以上還有免運費優惠喔!
(*大溫以外地區等值運費折抵)
今年也將到了尾聲,不免俗的,Bema 團隊先預祝您,耶誕佳節愉快!
The December Super Save Sale is here!

Check out our offers for the month. You may find something you need.