TDP Far Infrared Therapy Lamp
TDP, which stands for the "Special Electromagnetic Spectrum" in Chinese, is the "miracle lamp" that adopted by many clinicians nowadays. Although not a complete replacement for the moxibustion therapy, it is an ideal alternative, as there is no drawback of smoke while providing the same beneficial heat energy similar to the conventional moxa treatment. TDP lamp's proprietary mineral plate contains coating of 33 trace elements, capable of generating unique wavelength of Far Infrared Radiation (FIR), which is the safest segment of energy that emits from the sun. Researches show that FIR could promote microcirculation and peripheral blood flow, just like capturing the therapeutic benefits of the solar energy. There is a wide range of health benefits, such as enhancing the circulation, providing pain alleviation and inflammation relief, skin revitalization, sleep modulation and etc.

To bring the TDP healing experience to your practice, Bema Med Supplies department carries a selection of choices, including the single large head and the double heads floor model, which not only covering more surface area, but also offering better efficacy and flexibility during treatment. If there are any questions regarding our products, please feel free to inquire by email or phone 604-982-9198 .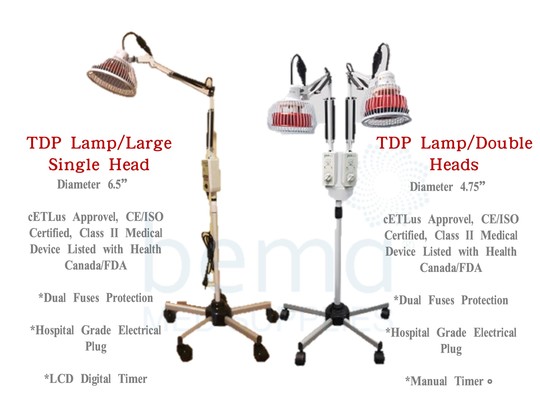 TDP 神燈 現貨供應中
TDP神燈採用遠紅外輻射片,通電後輻射片迅速產生熱量,並輻射出可達人體較深部位的遠波段紅外線,可使局部血管擴張,增強血液循環,改善組織代謝和營養狀態,增強免疫功能、增強吞噬細胞功能和血管通透性,有利於炎性滲出物的吸收。
TDP神燈具有良好的銅鏡活血止痛的作用,中醫認為:不通則痛。凡痛炎、硬癱與氣血循環障礙有直接關係。遠紅外理療器可以消除痛炎、硬癱,以改善病變部組織的氣血循環從而使失衡的肌體得以恢復,達到"陰平陽秘"。
TDP神燈對關節炎、肩周炎、靜脈炎、類風濕性關節炎、急性乳腺炎、高血壓、腰痛、胃痛、痛經、疥瘡腫痛、結塊腫塊、傷口癒合、骨質增生、傷口輕度感染、骺骨處上髁炎、纖維質炎、關節扭傷等疾病有顯著療效。
適用範圍
軟組織損傷、風濕關節炎、骨質增生、肩周炎、腰肌勞損等頸肩腰腿痛、急慢性支氣管炎、小兒肺炎、腹瀉、前列腺炎、增生、盆腔炎、痛經、促進骨折癒合等.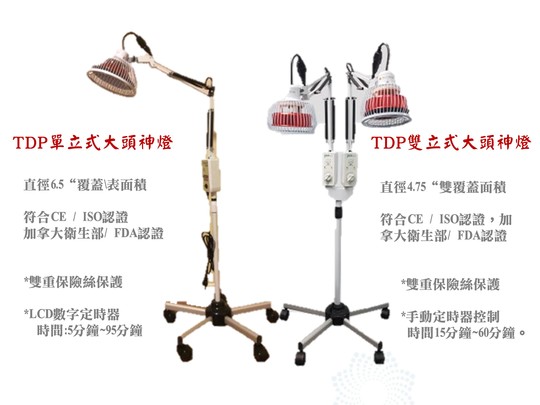 Bema 醫療器材部,現貨供應符合加拿大衛生部與FDA認證之TDP神燈,有單立式與雙立式兩種。平價供應若有需求歡迎致電。
604-982-9198