2018 Bema Spring Sale 05/01~05/14 & 07/01 Bema Botanicals Price Adjustment Notice
The 35% off Spring Sale is here.
From May 1st to May 14th.
This will be the last 35% off. Don't miss out on this opportunity!

來了!來了! 春季35%特賣真的來了
從5/1~5/14號 ,盛大展開,敬請各位醫師好朋友把握機會
本次春季特賣為調價前最後一次35% off特賣,請您千萬別錯過!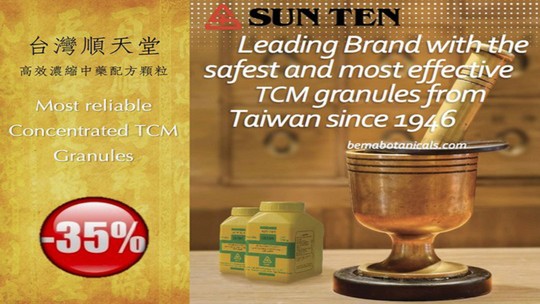 ==================================
Bema Botanicals Price Adjustment Notice
Dear Practitioners,
Thank you very much for your ongoing support.
In recent years, the prices of raw materials and other production costs for Chinese herbal medicines have continued to rise. BEMA has been trying to absorb these growing costs. But the increases in the price of raw materials have become too high.
BEMA is committed to providing scientific, concentrated, safe and high-quality TCM granules. In order to maintain this quality, it will be necessary to adjust the prices of the TCM granules starting July 1, 2018.
Once again, we wish to thank you all for your continuous support. BEMA will continue to maintain the highest principles of rigorous attitude and adherence to high quality, safety and security, and continue to provide good quality, safe and reliable TCM granules
.
--------------------------------------------------------------------
Bema Botanicals 科學濃縮中藥-調價公告
親愛的BEMA醫師好朋友您們好:
感謝您長期以來對BEMA的支持與愛護,謹致萬分謝意。
近年來,國際中藥材原物料及能源價格不斷上漲,BEMA本著與所有醫師好朋友共體時艱,雖然竭盡一切努力自行吸收成本上漲壓力,但原料價格上漲幅度過高,實非本公司所能全然負荷。BEMA為維持優良品質,堅持提供安心、安全與高品質的科學濃縮中藥,不得已將自2018年7月1日起調整科學濃縮中藥售價。
感謝您對BEMA長期的支持,今後BEMA同樣持續本著嚴謹的態度與堅守高品質、安全、安心的最高原則,繼續為廣大愛護BEMA的醫師好朋友們把關提供品質優良,安全可靠的科學濃縮中藥。
Bema Botanical Solutions  敬上
The 2018 May Super Save Sale is here!

Check out our offers for the month. You may find something you need.