Reminder: San Fu Tie 07-17 The beginning (1st fu Day)
Dear practitioners and friends of Bema,

The beginning of San Fu days (7/17) is only a month away!
It is a good time to start scheduling appointments for your patients.
Have you placed promotional posters in your clinic?
Has your clinic started to accept appointments?
It's time to prepare for the coming summer!

If you don't have posters to advertise this service, place an order with Bema and receive one with your order. Prepare for the coming July and have your Celestial Moxa materials ready to go.

For purchases of three or more San Fu Tie kits, you'll be eligible for free local standard shipping to the Greater Vancouver Regional District (If you are outside of the GVRD, a comparable shipping discount will be applied).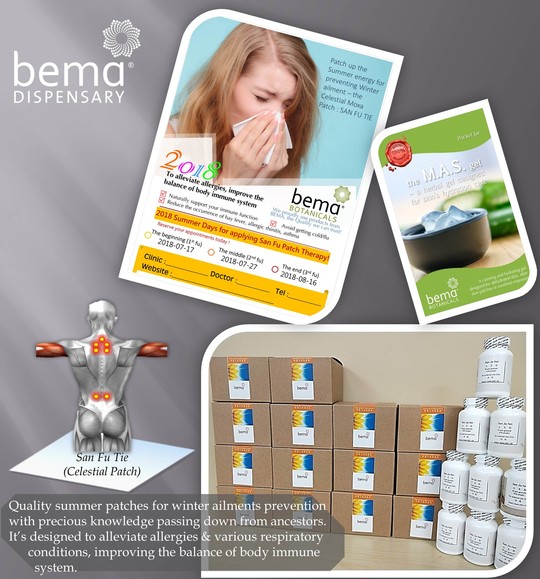 親愛的Bema醫師好朋友們:

再過一個月就是三伏天開始的時間嘍 7/17!
這個月開始,各診所紛紛已經展開,三伏貼預約的流程了,您的診所
開始張貼預約海報了嗎?
您的診所開始接受預約了嗎?
快加緊腳步開始迎接三伏貼的客戶預約吧!
如果您診所還沒張貼預約海報,現在訂購就送您一張喔
貼心提醒您,檢查三伏貼材料是否準備足夠;七月暑假到來,事務繁忙,也不妨電話或簡訊再次提醒患者預約時間.
現在訂購一組附送門診宣傳海報,訂三組以上還有免運費優惠喔!
(*大溫以外地區等值運費折抵)