For a long time, western medical doctors have lots of misunderstanding toward traditional Chinese medicine (TCM). Lots of questions about the clinical effect of TCM, western medical doctors believed that TCM treatment effect is a result of a positive placebo effect. For the past few years, more and more research papers done by western countries about the efficacy of TCM treatment, more people are willing to try TCM treatment.
From a biomedical standpoint, cupping will stretch the muscle and connective tissue while increasing space between the skin, the fascia, and the muscles. With a stronger cupping suction, the space between muscles will be increased and the created suction will break up the adhesion between muscle, fascia, and skin. Cupping can effectively treat muscle pain and increase blood flow.
Although the Western medical community still has a lot of distrust and disapproval of the treatment effectiveness of cupping, the athletes in the West are convinced of the effect of cupping, and willing to use this treatment.
The famous swimmer, Michael Phelps has addressed several times to the media about his cupping treatment: Cupping is very effective on me, it helps to relax the stress on my shoulder and my legs, it's like a quick message for 5 minutes, I like cupping. We can see his cupping marks when he participates in different competitions. 
LeBron James, the famous NBA basketball player, openly stated that the long-term use of cupping therapy has a big influence on his performance. This created a trend among NBA basketball players.
Great NFL football player, Akeem Spence, had an amazing muscle recovery with cupping treatment, he believed that cupping makes him feel more energetic and feel much younger. From a gold medal recipient, Aly Raisman to a Broadway performer, Amber Ardolino; they all used cupping as a recovery treatment or a rehabilitation treatment. More and more celebrities from the west, start to accept and enjoy the great effect of cupping.
TEL 604-982-9198. BEMA medical carefully selected different cupping equipment for our customer. From the classical glass cups for fire cupping to the professional grade, plastic cup, easy to carry around. We even have in our inventory, single-use sterile plastic cup.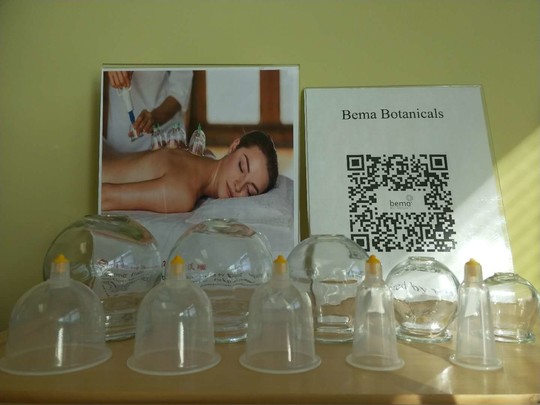 We have updated our inventory. This year, we offer different size of a single-use sterile cup in a package of 5 per bag. Different from the previous one, which offer 5 different cup size and only some cup is being used.
 If you need further detail about our cup size and the quantity of a certain product. Please do not hesitate to call us or send us an email. It would be our pleasure to assist you to purchase exceptional equipment for your professional practice.
Cupping Tools
Bodymate Silicone Cupping Set (4pcs)                                                        (矽膠易罐4杯組)
Glass Cupping Set (5 cups + 1 pump + carrying case)                                  (5杯拔罐器組-玻璃+攜帶盒)
Korean Premium Cupping Set (17 cups + 1pump + carrying case)                 (17杯拔罐器組+攜帶盒)
Disposable Sterile Cupping Set (5 cups,Φ5.9cm,A )                                      (一次性拔罐杯x5   A號尺寸)
Disposable Sterile Cupping Set (5 cups,Φ5.0cm,B )                                      (一次性拔罐杯x5   B號尺寸)
Disposable Sterile Cupping Set (5 cups,Φ4.4cm,C )                                      (一次性拔罐杯x5   C號尺寸)
Disposable Sterile Cupping Set (5 cups,Φ5.5cm*2.9cm,F )                           (一次性拔罐杯x5  F號尺寸)
Disposable Sterile Cupping Set (5 cups,Φ2.7cm,D )                                     (一次性拔罐杯x5   D號尺寸)
Disposable Sterile Cupping Set (5 cups,Φ2.3cm,E )                                     (一次性拔罐杯x5   E號尺寸)
Small Glass Fire Cupping Jar (Φ3cm)                                                         (玻璃火罐-小)
Medium Glass Fire Cupping Jar (Φ3cm)                                                      (玻璃火罐-中)
Large Glass Fire Cupping Jar (Φ4.5cm)                                                      (玻璃火罐-大)
XL Glass Fire Cupping Jar (Φ5.5cm)                                                          (玻璃火罐-特大)
XXL Glass Fire Cupping Jar (Φ6cm)                                                           (玻璃火罐-超大 )
Glass Fire Cupping Jar Set (4 cups, small~large)                                       (玻璃火罐4杯組-小~大)
KangZhu Hand Pump Cupping Set (6 cups + 4 magnetic probes + 1 pump) (6杯拔罐器組)
KangZhu  Hand Pump Cupping Set (12 cups + 6 magnetic probes + 1 pump) (12杯拔罐器組)
YunLong Hand Pump  Cupping Set (13 cups + 1 pump + zipped case)        (13杯拔罐器組+攜帶包)