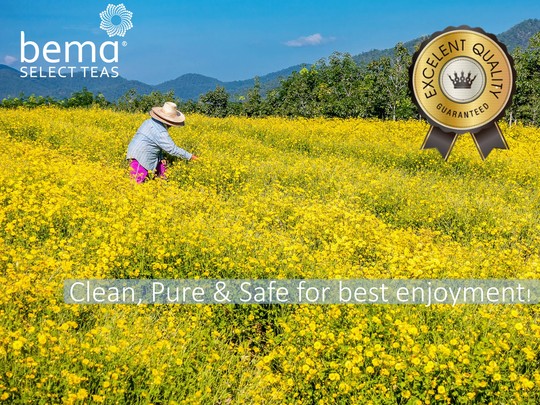 According to the recent researches, Chrysanthemum is use to treat angina, hypertension, type 2 diabetes, fever, cold, headache, dizziness, and swelling.
Infusing chrysanthemum as a tea trace back to Tang dynasty. At that time, the infusion is called the "Tea of Prolonged longevity. We can see that since a long time ago, chrysanthemum have been discovered and used for various reasons. But as the time passed, the environment where the flower grow has changed also. To purchase chrysanthemum is not hard but to purchase chrysanthemum without pesticides is much harder. The products on the current market are mostly treated with sulfate in order to preserve it.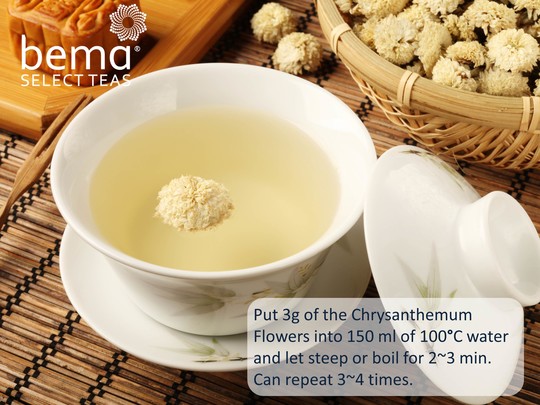 BEMA wants to provide our customer with the best quality of product.  We import the chrysanthemum directly from the farm in Taiwan. The plantation uses the traditional way to take care of the flower and avoid using pesticide. Our product passed pesticide test from both Taiwanese and Canadian laboratories and has both certification of the content
During Promotional Event: 8/23-9/05 Buy 10 Box of the Chrysanthemum Tea and get One Box Free
Also, we want to promote our product: Herbal Tea Selection – Brighten: See Well.
The Tea has Chinese red dates, wolfberry, chrysanthemum, flattened sugar orange, eyebright and bilberry leaf. This tea helps to alleviate dryness of the eyes due to long exposure to computer screen and overwork. The tea bags are all prepare by hand and packaged when ordered. Please Send Us your request and we will prepare for you.