The Chinese medicine San Fu Tie service has gradually expanded over the past few years. We are thankful to the doctors and friends of Bema that have recommended and promoted this product to others, enabling more people to understand the benefits of San Fu Tie.
According to past experiences, having posters placed early in your clinics will help your patients better plan for appointments and allow you more time to prepare needed materials. This should help maximize the number of patients you can accept this summer.
For the month of May, Bema wishes to help fellow practitioners prepare for the coming summer. Use the provided posters to advertise this service in your clinics. Don't hesitate to take advantage of this promotion. If you haven't joined us yet, now is your chance to do so!
-----------------------------------------------------------------
Promotions:
Before the 22nd of June:

 
(1) Buy 3 or more San Fu Tie kits:
Free local standard shipping to those in the Greater Vancouver Regional District (If you are outside of the GVRD, a comparable shipping discount will be applied).
One free copy of the English and Chinese posters.
(2) Buy 1 San Fu Tie kit:
One free copy of the English or Chinese poster (You may only choose one).
Place the poster in noticeable areas to advertise this service to your clients.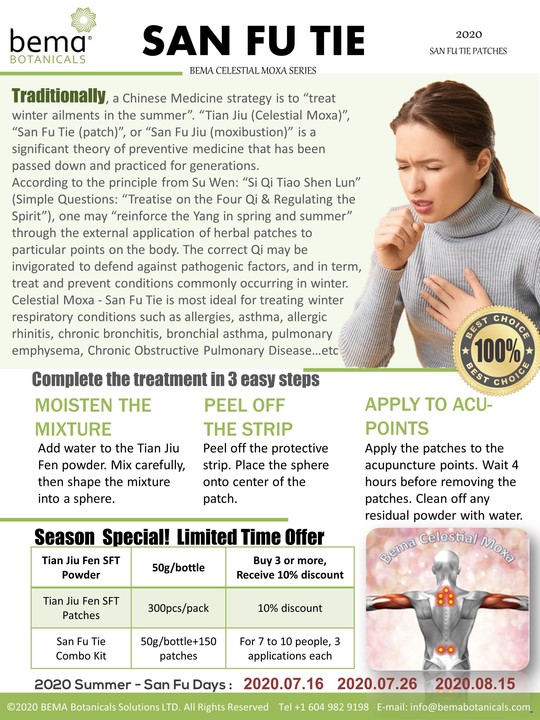 Kind Remarks:
In order to help practitioner to remind their patient, BEMA had provided information card in every celestial moxa patch kit. On the information card, general recommendations are printed. Please remember to go over those recommendations and answer any questions from your patients. It is recommended to let the patient sings a consent form for the treatment of moxa patch and that the patient have acknowledge the information written on the card.