TDP Heat Therapy Lamp: Your Personal Physiotherapy in the Autumn Time
Throughout the world millions of people are affected by arthritis, their lives being changed by the constant pain of inflamed joints. Oct 12 will mark the annual World Arthritis Day (WAD) , which is a global awareness-raising day that aims to promote awareness of the importance of early diagnosis in preventing further damage to those living with rheumatic and musculoskeletal diseases (RMDs), and to encourage timely access to evidence-based treatment. RMDs often reduce peoples' quality of life and affect physical abilities.
In TCM diagnosis, rheumatic and musculoskeletal diseases is often described as Bi Syndrome under the classical literature, which is often brought about by the wind, cold, or dampness pathogenic evils. Acupuncture and Moxibustion were traditionally used to treat the ailments associated with RMDs, whereas TDP Heat Therapy Lamp is often the first alternative choice to complement the acupuncture therapy in the contemporary clinical setting.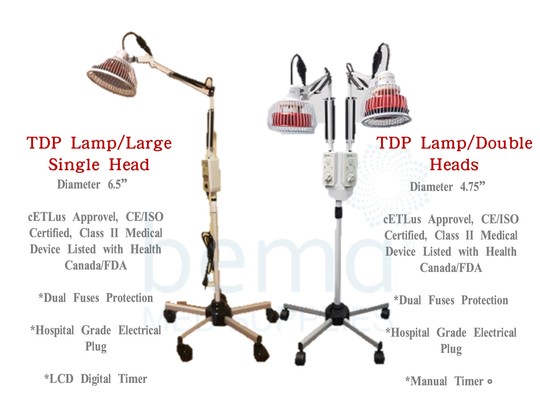 TDP, which stands for the "Special Electromagnetic Spectrum" in Chinese, is the "miracle lamp" that adopted by many clinicians nowadays. Although not a complete replacement for the moxibustion therapy, it is an ideal alternative, as there is no drawback of smoke while providing the same beneficial heat energy similar to the conventional moxa treatment. TDP lamp's proprietary mineral plate contains coating of 33 trace elements, capable of generating unique wavelength of Far Infrared Radiation (FIR), which is the safest segment of energy that emits from the sun. Researches show that FIR could promote microcirculation and peripheral blood flow, just like capturing the therapeutic benefits of the solar energy. There is a wide range of health benefits, such as enhancing the circulation, providing pain alleviation and inflammation relief, skin revitalization, sleep modulation and etc.
Autumn Promotional Offer:
From 10/17~11/02
-With every purchase of the Single Head TDP Lamp/Double Head TDP Lamp, we will include 5 boxes of Carbo 7-Star Needle Set*
* (each box includes 13 replacement heads per box)