In response to the global pandemic, Taiwan's Tri-Service General Hospital (TSGH) and the National Research Institute of Chinese Medicine (NRICM) have teamed up in order to cooperatively develop an effective herbal formulation that will help those suffering from externally contracted seasonal epidemic.
Taiwan successfully dealt with SARS, the last major global epidemic, seventeen years ago, during which Taiwan's public health policies along with their medical interventions managed to keep the public safe. To date, Taiwan has continued to manage the current global pandemic effectively. In light of their successes, Taiwan has now applied their experiences and medical expertise to develop a nationally acclaimed traditional Chinese medicinal formulation 清冠一號, named RespireAid.
RespireAid consists of 10 herbal medicinals that have been chosen carefully based on the Traditional Chinese materia medica, their history of therapeutic effectiveness for contagious diseases historically, and their ability to reduce the symptoms and therapeutically address the pathological mechanism that 外感時疫(externally contracted seasonal epidemic) presents. In order to test its effectiveness, RespireAid has been dispensed to patients who have tested positive and hospitalized with 外感時疫 (externally contracted seasonal epidemic) .
Medical reports indicate that the patients who received RespireAid experienced significant relief from their symptoms as well as the recovery from palpitations and high blood pressure associated with the infection. The medical team observed that the formula helped prevent the illness from getting worse, promoted recovery, reduced the chance of returning positive, and prevented complications such as pulmonary fibrosis.
According to traditional Chinese medical theory, RespireAid possesses the following therapeutic actions:
*release the exterior and diffuse the lung
*clear heat and detoxify
*open and soothe the chest
*dispel phlegm
*downbear qi and harmonize the stomach
Directions:
Take 1 sachet (5g) 2~4 times daily (every 4 hours) directly or with 400cc water before or between meals.
Take 1 sachet (5g) one time per day for prevention.
*For children, take half of the adult dose.
Method 1
Dissolve the granules with
200~400cc cold water and drink
(Not limited to the use of either cold or hot water.)
Method 2
Swallow the granules dry,and wash down with water
*The tiny white crystals found in RespireAid occur as a completely natural phenomenon (during the manufacturing process)
Cautions and warnings:
-Pregnancy or when breastfeeding should consult with their doctor prior to ingestion.
-Avoid icy cold drinks and foods
-Avoid spicy foods and drinks
-Avoid greasy food
-Wait to take at least 2 hours after taking other medications.
-Children and those with a chronic disease should consult with their doctor prior to ingestion.
Note:
This product is a special manufactured item. It does not contain corn starch, can be dissolved in the cold water completely. It can also be poured into the mouth and swallowed. Natural herbs, slightly cool smell, good taste. No side effects. Does not contain ephedra, aconite or asarum.
For more information about pre-order, please contact Bema Botanicals Solutions LTD. (stock will be available around 2021-01-08)
Email: info@bemabotanicals.com
Tel: (604)982-9198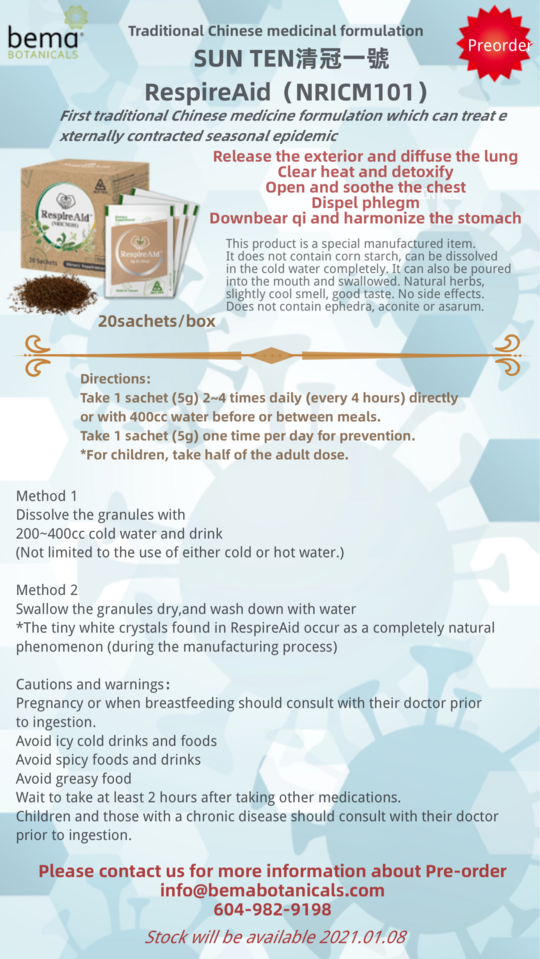 __________________________________________________
RespireAid (NRICM101)
SUN TEN順天堂清冠一號

台灣第一支經臨床科研可治療外感時疫的中藥製劑

全球肺炎疫情持續升溫,台灣中藥團隊吸取17年前全球SARS經驗並積極投入臨床,獲得顯著療效。由十種中草藥組合調配出的中藥複方「清冠一號」,據研究報告指出,該複方可減輕症狀,並防止朝重症發展,加速康復的速度,也減少復發及重症後肺纖維化等的機率。目前也未觀察到任何副作用。

每天基本服用量是兩包
有症狀必要時可以每四小時一包
預防可以每天一包
*小孩服用量為大人1/2

服用方法一,冷水溶之飲用(亦可溫水或熱水溶之飲用)
服用方法二,直接口服(產品若有微小白色結晶純屬自然現象,請安心服用)

服用注意及禁忌:孕婦及哺乳婦女請事先諮詢專業醫生建議。
忌冰冷,忌辛辣,忌油膩。服用西藥者需間隔2小時。
小孩和慢性病者請事先諮詢專業醫生建議。

說明:該產品屬於特殊製造品項。特殊工藝製造,不含玉米澱粉,冷水即溶,可以完全溶解於水中,也可倒入口中含化吞下。天然草本,氣味微涼,口感良好。配方是由中醫醫藥研究所所授權,臨床研究的成果論文已經發表。無副作用。不含麻黃,附子或是細辛。

現已開放預購,請聯絡Bema Botanicals Solutions LTD了解更多預購信息。(第一批供貨日期預計2021.01.08)
Email: info@bemabotanicals.com