Ready for the cold & flu season? CoFlu Support!!
Promotion Date From: 2022.11.19 to 2022.11.27
Season is changing once more.  From sunshine to rain, from hot to cold. Every two weeks to two months, many patients with poor immune systems experience mild cold symptoms such as nasal congestion, sore throat and headaches.

But if treated early, the symptoms are more easily controlled and relieved. It will help to shorten recovery time and reduce the effects of the symptoms.

COFLU SUPPORT is specially designed to help treat patients that are sensitive to the rapidly changing temperatures brought about by the new season. It is effective at preventing and alleviating the symptoms of colds and flus, a great remedy to keep on hand at home. The CoFlu Support is crafted from seven carefully chosen herbal ingredients. The formula itself was produced from years of clinical knowledge and experience in Traditional Chinese Medicine and western Pharmacology.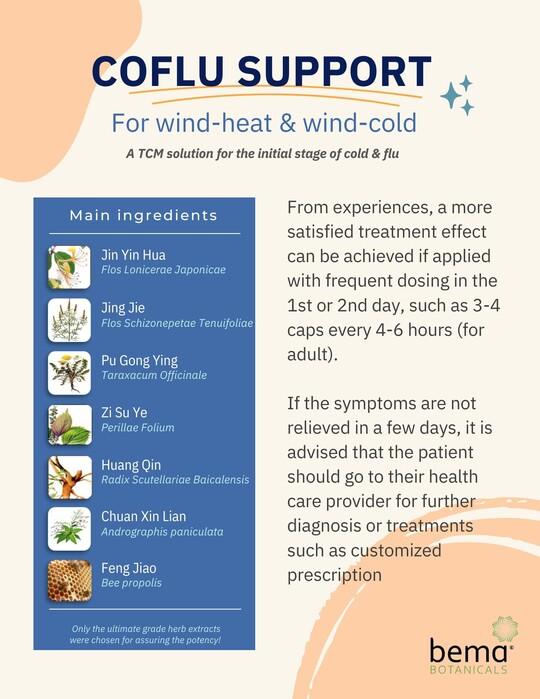 Promotions:
(1) Buy 10 bottles, get 1 bottle free
(2) Buy 20 bottles, get 2 bottles free, + Free shipping*
*Free local standard shipping to those in the Greater Vancouver Regional District. If you are outside of the GVRD, a comparable shipping discount will be applied. (Up to $20)